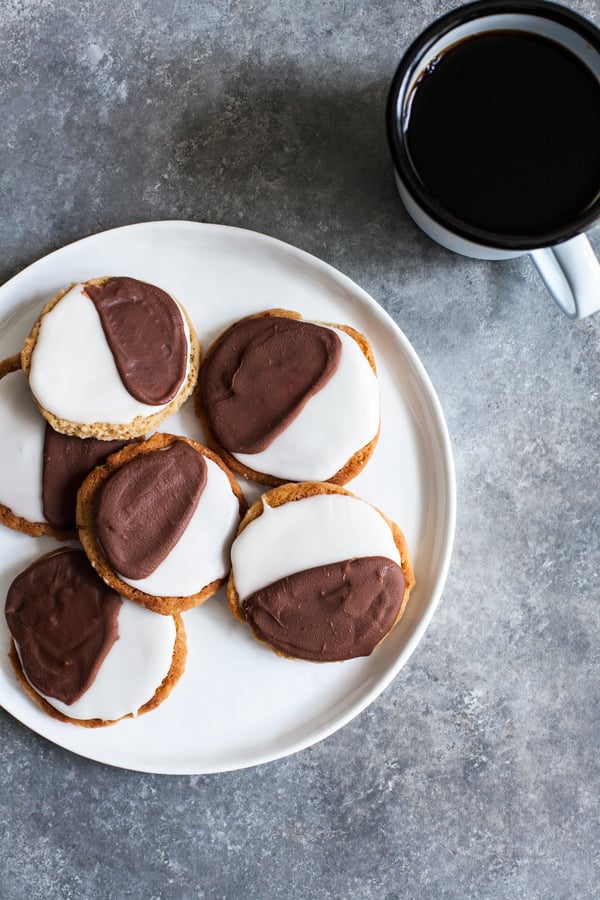 When I was growing up, my father would pick me up most Sundays and take me to church. We'd get lunch afterwards, usually at one of those iconic NYC delicatessens that are rarer and rarer these days: Wolf's, the Carnegie Deli, the Westway diner. We'd order stacked sandwiches or platters, but my eyes were usually fixed on the dessert counter, with its rotating displays of cheesecake and pie. And cookies—especially the big, round, pillowy frosted treats known as black-and-white cookies.
So much changed over time, including my diet, and after a while diners and delis weren't the easiest place for me to eat as a vegan. I forgot about a lot of the New York City specialties I'd grown up with, including black-and-white cookies. My fondness for them hasn't gone away, though—a fact I've been happily reminded of thanks to my friends Ethan and Michael and their new cookbook, NYC Vegan.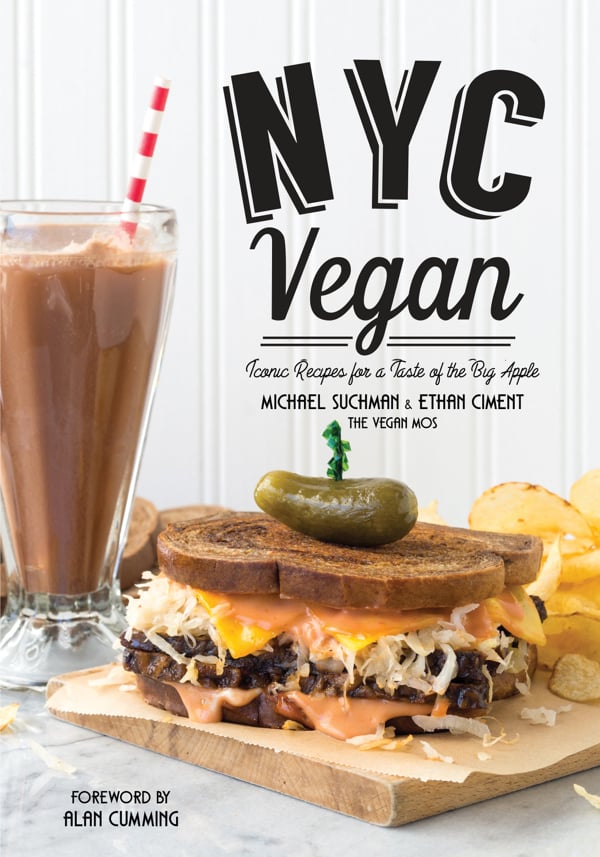 NYC Vegan is a celebration of the rich tapestry of dishes and cuisines that converge in New York City's five boroughs, brought two life by two passionate vegans who have made it their mission to create the city's most iconic recipes without animal products. Ethan and Michael are also known as the bloggers behind Vegan Mos, where they routinely share tasty, accessible, and globally inspired vegan food.
The book contains vegan versions of such Jewish specialties as blintzes, brisket, mandelbrodt, latkes, matzoh brei, and even a new-fashioned recipe for Jewish "chick'n" soup; old-school New York favorites like "glam" chowder, homemade bagels, Waldorf salad, New York-style pizza, and cheesecake; and a wide sampling of street foods, like soft pretzels, churros, a "meat" platter, Italian ice, falafel, zeppoles, and street fair corn.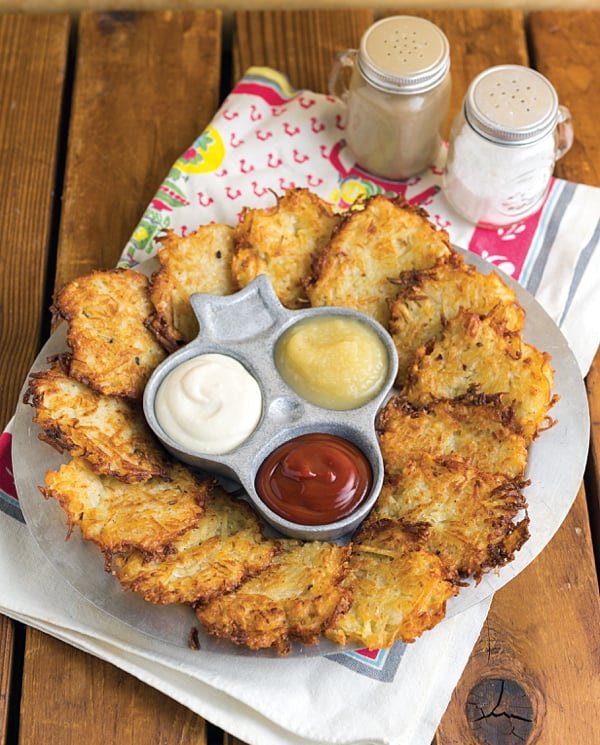 The book is also a culinary tour of some of New York's most diverse and culturally rich neighborhoods. Ethan and Michael have recipes for pierogi, knishes, arroz con maiz, mofongo, crispy ginger seitan, and even a vegan avgolemono, which of course I'm dying to try.
More than anything, this book is a tribute to the idea of a melting pot. It's a heartfelt celebration of what it means to live in a place where cultures and traditions converge—an "homage to diversity," as Ethan and Michael describe it in their introduction.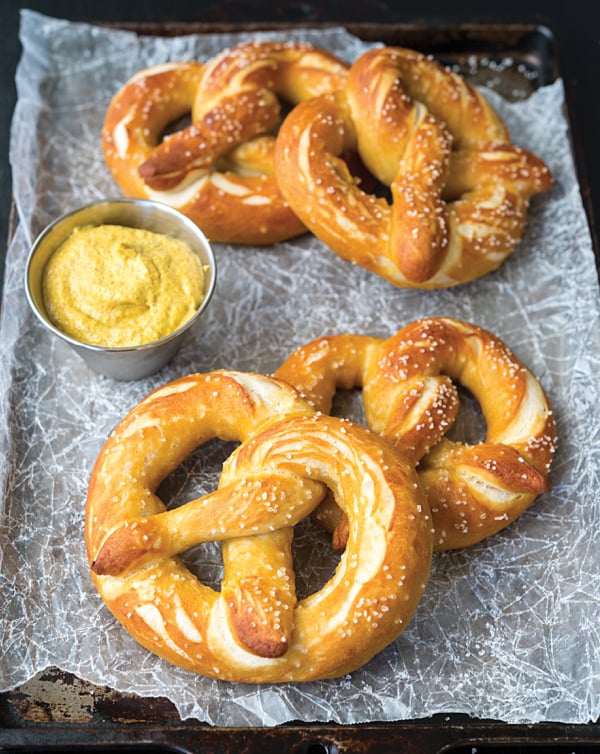 A vegan rendering of this idea is so necessary, because—at least in my experience—one of the main barriers people come up against when they're contemplating the switch to a vegan diet is the fear that the lifestyle won't be compatible with their culture of origin and the recipes that spring from it. My own thought process around this has always been that beloved dishes can be authentically created with plant-based ingredients. But it's one thing to hear this perspective stated and another to see it brought to life with vibrant and diverse recipes.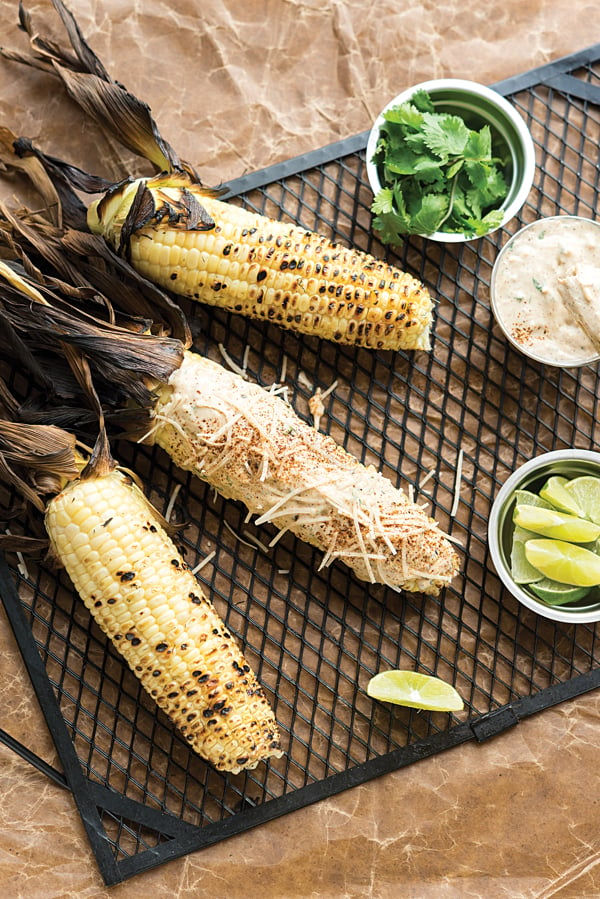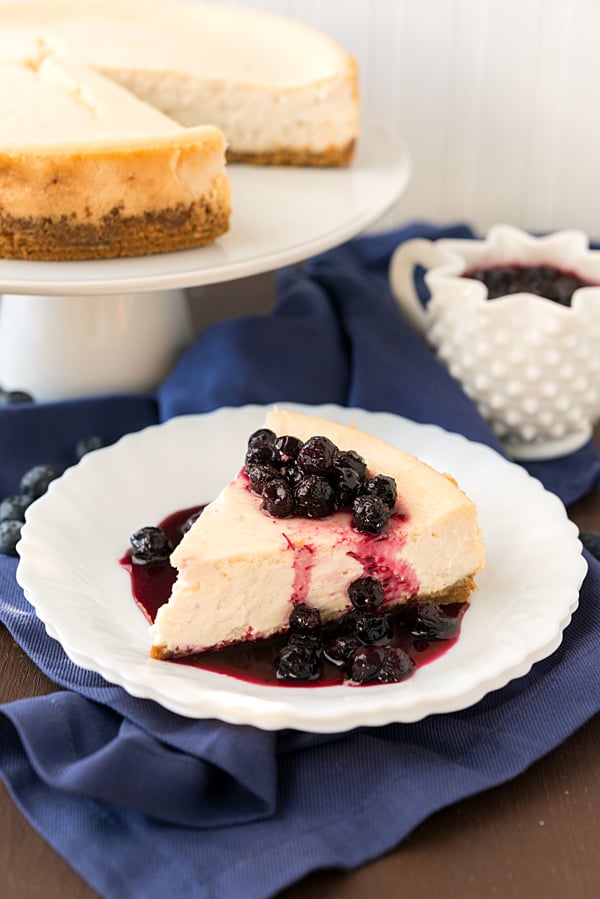 The book features evocative photos from the super-talented Jackie Sobon, a preface by actor Alan Cumming, and a heartfelt introduction from Ethan and Michael that describes how they came to write about New York and its food. The book also has an afterword in which Ethan and Michael share why veganism matters to them and how compassion for animals fits into the spirit of diversity and connection that they're celebrating with the cookbook.
One thing I love about Ethan and Michael's food is that it's incredibly flavorful while also being simple to make. The recipes in NYC Vegan are intuitive and easy to follow, and they feature easy-to-find vegan ingredients and household staples.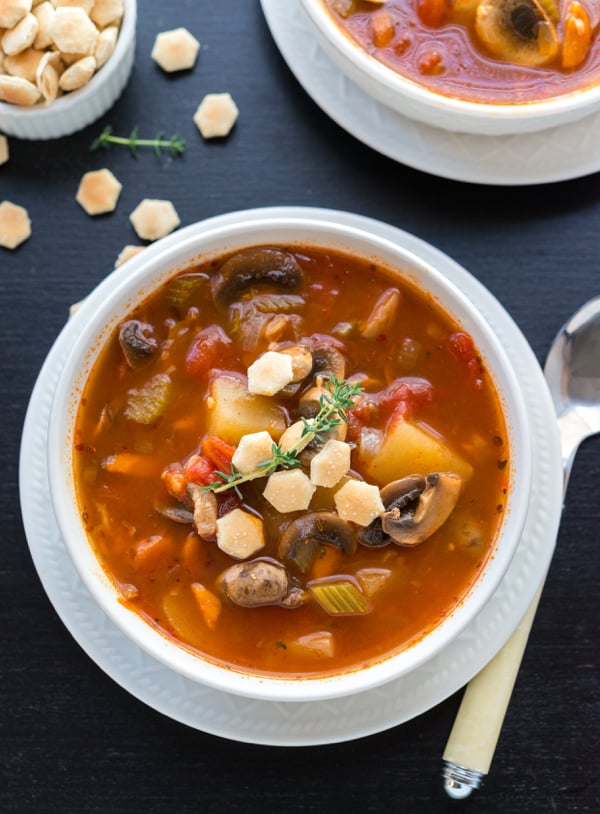 It was hard to choose which recipe to make first from the book, because so many of them took me back to being a kid and experiencing my city through diner and deli countertops and booths. The Manhattan "glam" chowder, tempeh reuben, falafel, and seitan piccata are all high on my list. I've had the pleasure of tasting Ethan and Michael's sun-dried tomato spread and kale salad, both of which are featured in the book, and I know how good they are.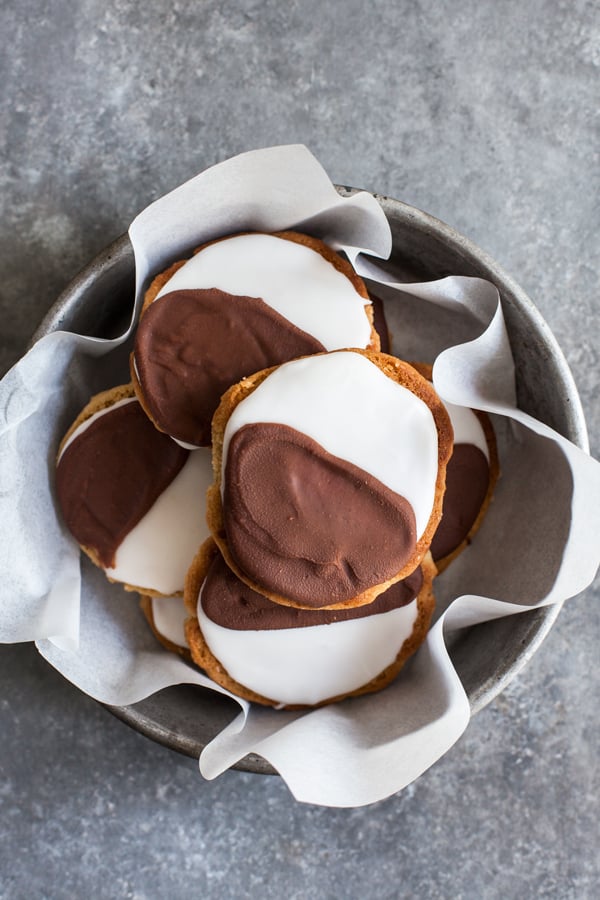 But in the end, I kept coming back to these cookies and all of the powerful nostalgia that they carry for me. As you'll see, the cookie recipe itself is so simple; it's the icing bit that's tricky. "Perfectly imperfect" would be a very generous way of describing how my own icing job turned out, but it doesn't matter: the cookies taste great, every bit as good as I remember.
Some black-and-white cookies are sort of like shortbread; these are more pillowy and tender. They remind me of a slightly firmer and fluffier version of snickerdoodles–sweet, with big hints of vanilla. They're perfect for pairing with an afternoon cup of coffee, or for an after-dinner treat.
Vegan Black and White Cookies
Ingredients
For the cookies:
2 1/2

cups

unbleached all-purpose flour

1 1/4

teaspoons

baking powder

1/2

teaspoon

baking soda

1/2

teaspoon

salt

1

cup

sugar

1

cup

nondairy butter

1/4

cup

nondairy milk

at room temperature

2

teaspoons

vanilla extract
For the icing:
3 1/2

cups

confectioners' sugar

1/4

cup

boiling water

plus more if needed

1/4

teaspoon

vanilla extract

2/3

cup

nondairy semisweet chocolate chips
Instructions
Preheat the oven to 350°F. Line 2 (18 x 12-inch) baking sheets with parchment paper. In a large bowl, whisk together the flour, baking powder, baking soda, and salt. Set aside.

In another large bowl, combine the sugar and butter and beat until creamy, about 5 minutes. Add the milk and vanilla and beat until incorporated. Add the flour mixture to the butter mixture in batches, beating after each addition, until combined.

Scoop the dough, 1/4 cup at a time, onto the prepared baking sheets, spacing the scoops 3 inches apart. Flatten them slightly with your hands (keep your hands wet to prevent the dough from sticking). Allow room between the scoops as the cookies will spread as they bake.

Bake the cookies for 15 minutes or until a toothpick inserted in the center comes out clean. Allow the cookies to cool 2 minutes on the baking sheets and then carefully flip the cookies over and transfer them, upside down, to a wire rack to cool completely.

While the cookies are cooling, make the icing. In a large mixing bowl, combine the confectioners' sugar, boiling water, and vanilla. Mix well to get a spreadable icing. Add a little more water, if needed. Using an offset spatula, spread a thin layer of icing onto the flat side, the former bottom, of each cookie. Return the cookies to the wire rack to dry. You should have about 1/2 cup of icing left.

While the white icing is drying, melt the chocolate chips in a microwave or double boiler. When the chips are all melted and smooth, whisk the melted chocolate into the remaining icing. The chocolate icing should be thicker than the white, but still be spreadable. If it is too thick, add a little hot water to thin it out. Use the offset spatula to frost one half of each cookie over the white icing. Return the cookies to the wire racks to dry. Store leftovers in a covered container for up for 5 days.
Notes
From NYC Vegan, copyright © 2017 by Michael Suchman and Ethan Ciment. Used by permission.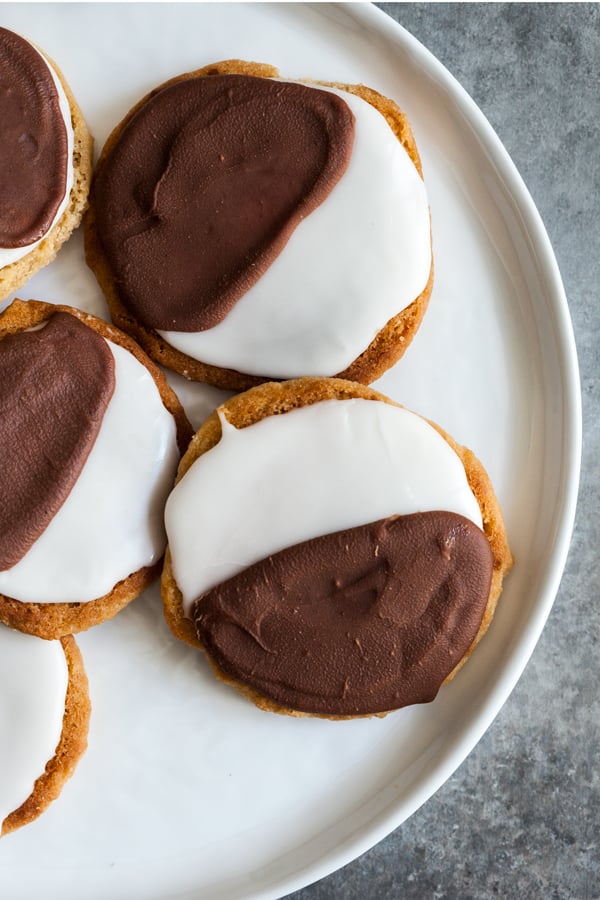 As Ethan and Michael note, these cookies were once only found in New York City bakeries and restaurants. Nowadays they're everywhere, including grocery stores and bodegas. There's something so special about a local specialty that becomes ubiquitous like this; when I lived in DC, I missed being able to walk into the corner store and see a plastic-wrapped black-and-white cookie next to the cash register.
Ethan and Michael are two of the most generous, passionate activists I know, and this book captures all of their love and heart. It's a pleasure to read and a pleasure to cook through–especially since flipping through its pages means touching upon so many cherished recipes from different cultures. I'm happy to be sharing a giveaway copy of NYC Vegan with one US or Canadian reader today. Simply enter below to win, and I'll announce the winner on the widget in a week!
Thanks to Ethan and Michael for the giveaway, and for sharing a little slice of the Big Apple with us. I'll be circling back around this weekend with the usual roundup of reads. For now, happy Friday.
xo
Latkes, pretzels, street fair corn, cheesecake, and chowder images by Jackie Sobon, reprinted with permission from NYC Vegan.